On thin ice: As Arctic Ocean warms, a scramble to understand its weather
Increasing summer ice melt in the Arctic Ocean could shift global weather patterns and make polar waters more navigable. But scientists say forecasting Arctic ice and weather remains a massive challenge.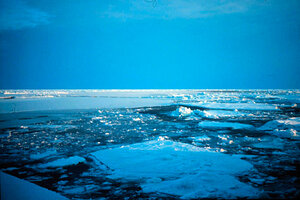 Courtesy of NOAA/AP
The prospect of more ice-free water during Arctic Ocean summers has triggered efforts to improve ice and weather forecasts at the top of the world.
Much of the research into the interplay between the ocean, ice, and atmosphere has centered on global warming and the long-term changes it will impose on the Arctic – including a continued decline in summer sea ice. Researchers are exploring the impact that decline could have on seasonal climate and weather patterns at lower latitudes.
Declining summer sea ice, however, is also expected to lead to an increase in commercial fishing, oil exploration, cargo-ship traffic, tourist cruises, and other activities where short-term weather and ice forecasts are vital to reducing the risks of operating in the 5.4 million square mile ocean.
Among those anticipating increased activities above the Arctic Circle are the US Navy and Coast Guard. But in a report to Congress nearly two years ago, the Defense Department identified "shortfalls in ice and weather reporting and forecasting" as one of several key challenges to future operations there.
Currently, the US National Ice Center – based in Washington and run jointly by the Navy, Coast Guard, and the National Oceanic and Atmospheric Administration – issues Arctic ice forecasts for conditions expected within a day or two, says Pablo Clemente-Colon, the center's chief scientist.
---