On Earth Day 2013, a planetary report card on global warming
Planetary carbon dioxide concentrations are the highest they've been in the past 800,000 years, an ignominious milestone for Earth Day 2013. Still, the world is making some progress toward addressing global warming.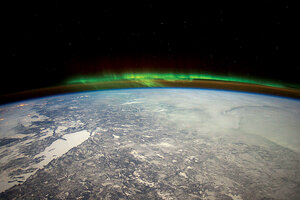 NASA/File
When Earth Day observances first began in 1970, Cleveland had recently doused a pollutant-fueled fire on a section of the Cuyahoga River. Cities were often shrouded in thick blankets of smog. And large portions of Lake Erie were so fouled by industrial, farm, and sewage runoff that sections of the 241-mile-long lake were pronounced dead.
As an environmental issue, global warming was far down the list of concerns.
At the time, a small number of climate scientists noted a general cooling trend in Earth's climate. They even suggested Earth might be about to begin a millenniums-long slide into a new ice age.
It was a decidedly minority view, however. And it quickly faded as global average temperatures rose and as the burning of fossil fuels and deforestation pushed concentrations of greenhouse gases in Earth's atmosphere relentlessly higher.
Since that first Earth Day, the air over major cities is cleaner. Lake Erie is healthier. So is the Cuyahoga River, which groups in Cleveland would like to turn into a centerpiece of urban life. The improvements have come with "yes, but ..." as other environmental challenges have elbowed their way to the fore. But for the most part, tools are in place to deal with them.
So, how are we doing on global warming, now widely seen as the century's most pressing environmental issue?
For the most basic measure, let's turn to the atmosphere and the changes that human activities are imposing on the mix of gases it contains – primarily carbon dioxide (CO2).
Most climate scientists trace global warming to the relatively rapid buildup of atmospheric CO2 from the burning of fossil fuels long sequestered deep underground.
---