Better fuel economy matters to more US consumers, survey finds
US consumers appear to be latching onto the drive for fuel economy, with almost 3 in 5 saying it will be a 'very important' factor in the next vehicle they buy, a survey shows.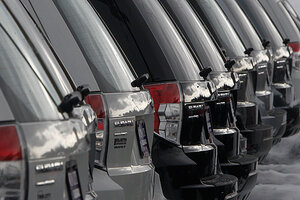 Toby Talbot/AP/File
America's transition is well under way to higher mileage standards and to vehicles that sip rather than slurp gasoline, with manufacturers and consumers both supporting the shift, according to new research by the Consumer Federation of America.
Just six months ago, the federal government finished a plan to boost fuel economy standards of new cars to an average of 54.5 miles per gallon (m.p.g.) by 2025, up from 35 m.p.g. in 2017. Those mileage increases were authorized under the Energy Independence and Security Act passed by Congress in 2007.
Unknown, however, was how quickly automakers would shift production to go after those targets – and whether consumers would accept higher vehicle prices up front in exchange for lower gasoline costs over the lifespans of their vehicles. In a first cut at answering those questions, the CFA polled consumers and analyzed fuel efficiency of new vehicles, including plug-in vehicles.
It found a shift in consumer sentiment and manufacturer output, including the following:
•A large majority of Americans support the higher fuel-economy standards approved by Congress and amplified by the Obama administration. Today's consumers say they expect the next vehicle they buy to get many more miles to the gallon than their current vehicles, the CFA survey found.
•Automakers are boosting average vehicle mileage of their fleets, while making a range of options available. At the same time, consumers have increasingly purchased more efficient vehicles, four years of automaker data show.
•Sales of electric vehicles, still new on the market, are outpacing sales of hybrid vehicles at a similar point in their introduction to market.
---