Global warming, more wars? Climate could spark more conflict, study says.
A 'metastudy' of 60 other studies suggests that there is a clear link between the climate and violence. Global warming raises the specter of more conflict, especially in Africa.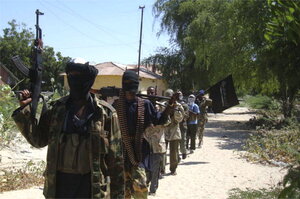 Feisal Omar/Reuters
Peacemakers are likely to be in great demand by 2050 if global warming proceeds unabated.
That is the implication of a new analysis exploring the links between climate change and conflict. The work represents the first attempt to survey a burgeoning number of studies on the subject to see if they point in a common direction and to quantify the overall effect the studies identify, researchers say.
The scientists conducting this "metastudy" estimate that if greenhouse-gas emissions from human industrial activity follow the business-as-usual path, and especially if people respond to changing climate in the future in much the same way they have throughout human history, warmer temperatures could significantly increase the risk of tribal, ethnic, or civil wars, as well as battles between countries.
The largest increase in risks appears in countries in the tropics, where people are expected to bear the brunt of climate change, the researchers note. Significantly warmer temperatures and increases in extreme rainfall could push the risk of so-called group conflict up by 56 percent over today's risk. The risk of friction among individuals could rise by 16 percent, the study implies.
They also point to a change in relative risk since 1950, after which changes in temperature have emerged as a higher risk factor than changes in precipitation, and the risk of group violence is greater than the risk of person-to-person conflict.
The researchers caution that climate clearly is not the only factor at work. Not all climate events affect all conflicts. Nor does a changing climate alone determine whether conflicts will occur.
Still, "for a long time, people have been arguing: Is there an effect or not, yes or no?" says Solomon Hsiang, a researcher at the University of California, Berkeley who focuses on sustainable development and the effects of climate on societies.
The answer is yes, says Dr. Hsiang, who along with two colleagues from Princeton University and Berkeley conducted the analysis. The results are set to appear in Friday's issue of the journal Science.
---