Supplier of electric car chargers may go bankrupt: what it means for industry
Ecotality, a top manufacturer of electric car charging equipment that received millions in federal funding, has seen its stock plummet. Sales of electric cars are growing, but not as fast as some predicted.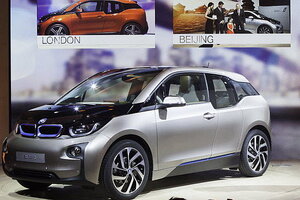 Lionel Cironneau/AP
Investors in the fledgling electric-vehicle charging equipment industry that aims to supply the nation's new fleet of plug-in vehicles got a shock this week as Ecotality, one of the top firms in that business and recipient of more than $100 million in federal funding, announced it is struggling to avoid bankruptcy.
The company's stock price plummeted on two consecutive days after the company on Monday released a required financial disclosure form in which it revealed a range of problems, including technical problems with its not-yet-deployed fast-charger and a connector plug on existing units.
Most devastating, though, the company revealed it was considering filing for bankruptcy protection and that a key source of government funding was cut. So far the government has supplied Ecotality with about $135 million, most available under the post-recession stimulus fund, according to a DOE report last month.
Ecotality sent a letter to the DOE this month saying it might not be able to finish the "EV Project" – a report on how plug-in vehicle owners use the nearly 12,000 charging stations the company has deployed as part of its government-supported project since 2009. In response, the DOE sent San-Francisco-based Ecotality a letter saying it would immediately suspend any further federal payments to the company.
"Although the Company is currently exploring options for a restructuring or sale of the entire business and/or assets of the Company, the Company may need to file a petition commencing a case under the United States Bankruptcy Code as part of any such process or otherwise in the very near future," Ecotality reported.
As one of the nation's top-ranked electric-vehicle charging equipment companies, Ecotality controlled about 12,000 of the nation's roughly 20,000 non-home charging stations at the end of 2012. An added 32,000 chargers are expected to be added by the end of 2013, according to John Gartner, a senior analyst with Navigant who analyzes plug-in vehicle and infrastructure trends.
---