Antarctic ice sheet melting from below, scientists say
The Pine Island Glacier, one of the most rapidly melting ice masses in the world, is being rapidly eaten away by warm currents of water below.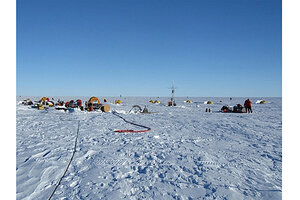 Tim Stanton/NPS
A two-month-long expedition to one of the most remote sites on the planet — the sprawling Pine Island Glacier in Antarctica — has revealed that currents of warm water beneath the glacier are melting the ice at a staggering rate of about 2.4 inches (6 centimeters) per day.
An international team of researchers journeyed to the southernmost continent to study the Pine Island Glacier, which is the longest and fastest-changing glacier on the West Antarctic Ice Sheet. This region, in the far reaches of Antarctica, has been of particular interest to scientists because it is among the most rapidly melting ice masses in the world, thinning as it flows to the Amundsen Sea at a rate of about 2.5 miles (4 kilometers) each year.
Since warm seawater flows beneath the ice shelf (the part of the glacier that floats on the ocean), scientists have known that the Pine Island Glacier was melting from below. Now, using sensors deployed across the 31-mile-long (50-km-long) glacier, the researchers have gauged the rate of glacial melt beneath the solid ice. [Album: Stunning Photos of Antarctic Ice]
The results demonstrate the crucial need to better understand melting processes underneath massive glaciers, including how this undersea process will affect global sea-level rise in the future.
"Intensive melting under the Pine Island ice shelf, as observed in our study, could potentially lead to the speed up and ultimate break-up of the ice shelf," David Holland, a professor of mathematics at the Center for Atmosphere Ocean Science at New York University, said in a statement. "That's important, as this ice shelf is currently holding back inland ice, and without that restraining force, the Pine Island catchment basin could further contribute to global sea-level rise."
---