Grand Canyon site of renewed mining rush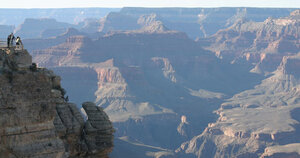 AP Photo/Amanda Lee Myers
Visit Arizona's majestic Grand Canyon in the coming years, and you'll be able to take in a number of spectacular sights: Eagle Rock, Walhalla Overlook, the uranium mines, Bright Angel Overlook. . .
Hang on. The uranium what?!
That's right. Renewed interest in nuclear power as a low-carbon energy source, as well as the depletion US power plant's nuclear stockpiles from the 1980, has caused prices for the radioactive metal to soar, making the Grand Canyon an attractive site for potential miners.
According to a story in Sunday's Los Angeles Times, there are now more than 1,100 uranium claims on public lands within five miles of Grand Canyon National Park. At the beginning of 2003, there were only 10 claims. Many of these claims are by overseas companies, such as Vane Minerals, a British company that was granted approval in December for exploratory drilling at seven sites near the canyon's popular South Rim.
---