One million Priuses sold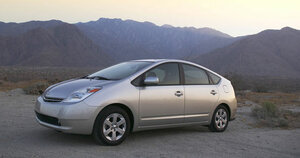 AP Photo/Toyota
Or is it Prii?
In any case, Toyota has sold a million of them. On their official blog, a spokesman for Toyota reports that, as of the end of April, some 1,028,000 of the cars have sold in over 40 countries.
But what's far more important than kudos or sales figures is this: According to our calculations, as of April 30, 2008, Prius hybrids worldwide contributed to a significant reduction in CO2 emissions. Our engineers calculate that the global Prius fleet has produced approximately 4.5 million tons less CO2 than would have been emitted by a similar number of gasoline-powered vehicles in the same class and of similar size and driving performance.
For those of you interested in the math, that total is based upon the number of registered vehicles multiplied by an estimated distance traveled, multiplied by our calculations of Prius fuel efficiency in the U.S., Europe and Japan, multiplied by a CO2 conversion factor.
---