House panel probes honeybee disappearances
(Read article summary)
A Congressional agriculture subcommittee is looking into colony collapse disorder, a mysterious phenomenon that is decimating beehive populations.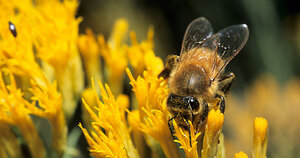 NEWSCOM
"I am not a scientist, I am a farmer, and I know one thing for certain," said North Carolina cucumber grower Robert Edwards. "No bees, no crops."
Mr. Roberts was testifying Thursday before the House Agriculture Subcommittee on Horticulture and Organic Agriculture, which had brought together scientists, farmers, beekeepers, and businesspeople to examine the mysterious phenomenon known as colony collapse disorder.
It started in 2006 and has been getting worse. According to the Cox News Service, beekeepers have lost about twice the percentage of bees that they would lose during a typical winter. So far this year, American beekeepers have lost 36 percent of their hives, compared with 31 percent in 2007. Some beekeepers in the United States have reported losses of up to 90 percent of their hives.
This is about more than just honey. As the Daily Telegraph, a British broadsheet, points out, bees pollinate one-third of the crops grown in the United States, including almonds, onions, apples, pears, soybeans, melons, and berries.
---