US calls off solar moratorium
(Read article summary)
The Bureau of Land Management has backed down on its freeze on solar projects on public lands.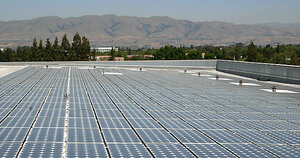 Ben Arnoldy / The Christian Science Monitor
Well, that didn't take long. On Sunday I posted an entry about how the Bureau of Land Management placed a two-year moratorium on solar energy projects on public lands, citing – get this – environmental concerns.
Now, following public outcry – no doubt prompted entirely by my blog post – the BLM is backing down. From their press release:
"We heard the concerns expressed during the scoping period about waiting to consider new applications," said BLM Director James Caswell, "and we are taking action. By continuing to accept and process new applications for solar energy projects, we will aggressively help meet growing interest in renewable energy sources, while ensuring environmental protections."
---