What does Bigfoot mean to us?
(Read article summary)
We want to believe that there remain some places on earth that are truly wild.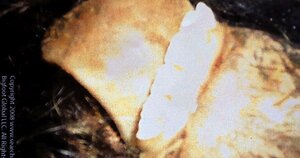 www.searchingforbigfoot.com via AFP/NEWSCOM
Back in 1997, when I was on something of a hiatus from college, I found myself in a remote Nepalese village staring at what I was pretty sure was the scalp of a yeti.
Maybe it was just cognitive dissonance: getting there required a grueling, nine-day trek through the Himalayas, followed by a three-hour search through the village to find the old Sherpa woman with the key to the Buddhist monastery where the scalp was kept. Or maybe it was the reverence with which she opened the pistachio-green filing cabinet in the prayer room and solemnly held up the glass case containing the "scalp" for me to examine. Maybe it was something about the scalp itself – a rotted, shabby thing that resembled a large, misshapen coconut half – that exuded a kind of venerability. Or maybe it was just because the air is really thin up there. Whatever it was, for a brief moment, I believed that I was looking at the real thing.
So you can imagine my disappointment later that day when I learned that in 1960 the scalp had been analyzed by American scientists, who concluded that it had been molded from the hide of a goat.
Bigfoot enthusiasts endured a similar letdown last week, when a trio of outdoorsmen claimed to have found a sasquatch carcass in the state of Georgia's wilderness, only to have DNA tests reveal that the samples they'd provided came from an oppossum. To all those who found this news to be a huge bummer, believe me, I can relate.
After all, how cool would it be if Bigfoot were real? It would mean that, despite all the abuse that mankind has unleashed on the planet, there still remain some places that are truly wild.
---