Study: Warmer oceans strengthen hurricanes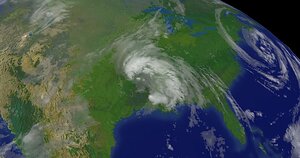 AP Photo/NOAA
As the oceans warm, the strongest tropical storms get even stronger, climate scientists reported Wednesday.
A study led by Florida State University researcher James B. Elsner suggests that the strongest storms have gotten stronger over the past quarter century, partly thanks to rising ocean temperatures. The study found that, over the same time, the intensity of weaker tropical storms has not increased. The study will be published in the Sept. 4 edition of the journal Nature.
Mr. Elsner and his team were attempting to verify the "heat-engine" theory of cyclone intensity. Proposed by MIT researcher Kerry Emmanuel in 2005, this theory holds that hurricanes are driven by the "intake" of warm air near the ocean surface and the "exhaust" of colder air above the storm.
"As seas warm, the ocean has more energy that can be converted to tropical cyclone wind," said Elsner in an FSU press release, though he qualified his findings. "Our results do not prove the heat-engine theory. We just show that the data are quite consistent with it."
---