eBay bans ivory sales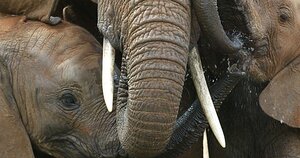 AP Photo/Karel Prinsloo
Starting next year, just about the only ivory that you can buy on eBay will be vintage soap.
Citing a new report that found that eBay is greatly exacerbating the black market trade in elephant tusks, the online auction site announced Monday that it will ban all commerce in ivory, including most antiques, starting January 1, 2009.
The announcement came ahead of  a report by the International Fund for Animal Welfare that over a six-week period tracked more than 7,000 posts offering body parts of protected wildlife, including pelts, teeth, bones, horns, and feathers. The report, titled "Killing with Keystrokes" [PDF], found that the United States was responsible for more than 70 percent of the trade, an amount nearly 10 times more than the two countries with the next highest volume, Great Britain and China. Nearly three-fourths of the posts were for ivory products.
By far, the single largest seller was eBay, with 73 percent of the total posts tracked on US websites.
---