Formal human 'fingerprints' on polar climate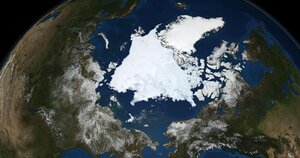 REUTERS/NASA/Goddard Space Flight Center Scientific Visualization Studio
So you heard the Arctic was the only pole percolating? Last year, the UN-backed Intergovernmental Panel on Climate Change pegged Antarctica as the only continent on the planet where human influence on climate hasn't popped up. Now, it appears, human "fingerprints" are finally showing up on climate  at the bottom of the world, as well as at the top. That's the latest word from a team of researchers in the US, Britain, and Japan.
For anyone who has followed changes in the Arctic, never mind changes in more-temperate areas of the world, this polar update is unlikely to come as a big surprise. For a sampler of what's happening up north, try the National Oceanic and Atmospheric Administration's  catalog of changes under way there.  But the team also finds a small but statistically significant increase in Antarctica's  average temperatures – although that varies significantly by location on the continent. Even in the Arctic's case, a region feeling the heat far more dramatically than Antarctica,  scientists haven't crossed the T's or dotted the I's by formally linked the changes to increased industrial emission of greenhouse gases – mainly carbon dioxide.
---
Subscribe to Recharge
Get the Monitor stories you care about delivered to your inbox.