Gore: Stimulus package will help curb climate change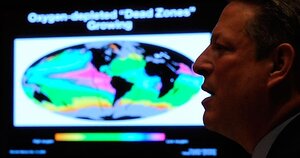 Susan Walsh/AP
Former Vice President Al Gore urged Congress to back President Barack Obama's economic stimulus package, calling it an important step toward solving the climate crisis.
In his prepared testimony before the Senate Foreign Relations Committee, Mr. Gore said that climate change, the economic crisis, and the threat of Islamic militancy are "linked by a common thread – our dangerous overreliance on carbon-based fuels."
"We're borrowing money from China to buy oil from the Persian Gulf to burn it in ways that destroy the planet. Every bit of that's got to change," he said.
Gore dismissed concerns that efforts to limit greenhouse-gas emissions would hinder an economic recovery, calling these concerns emblematic of "false choices."
"In fact, the solutions to the climate crisis are the very same solutions that will address our economic and national security crises as well," he said.
He praised the White House's economic stimulus plan, which calls for doubling the production of renewable energy over the next three years, improving the energy efficiency of 75 percent of federal buildings and 2 million homes, and putting 1 million plug-in hybrid cars on the road by 2015. These steps, Gore said, represent an "important down payment and are long overdue."
---