Snowbound London enjoyed cleaner air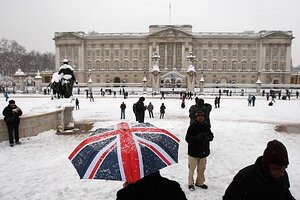 Stephen Hird/REUTERS
The snow that brought London to a standstill earlier this week had one positive benefit: The air became less polluted.
As the British capital was blanketed by eight inches of snowfall – the biggest in decades – flights in and out of Heathrow ceased, traffic dissipated, and, for the first time ever, the city's famous double-decker buses stopped running.
And, as the Guardian pointed out Tuesday, Londoners could breathe a little easier.
Reporter Leo Hickman noted the air-quality readings taken on the corner of Marylebone Road and Baker Street, which normally sees 50,000 vehicles a day. The readings, measured by the London Air Quality Network at King's College London  checked for concentrations of nitrogen oxide, which is thought to irritate the lungs and contribute to acid rain, and fine particles of 10 micrometers or less, which are also thought to cause health problems.
Here are the readings on that corner for a typical day, according to the Guardian:
Nitrogen Dioxide – 110 parts per billion
PM10 particulates – 85 micrograms per cubic meter
And here are the readings for February 2nd:
Nitrogen Dioxide – 15 parts per billion
PM10 particulates – 22 micrograms per cubic meter
---