Oxford Junior Dictionary dropping 'nature' words
(Read article summary)
Gone from the 10,000-word lexicon aimed at 7-year-olds are such words as: 'magpie,' 'vine,' 'beaver,' and 'canary.' In are: 'mp3 player,' 'voicemail,' 'blog,' and 'chatroom.'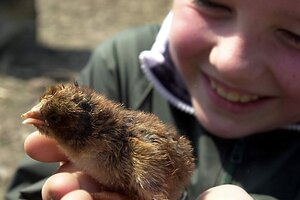 NEWSCOM/FILE
"Blackberry," the small purplish fruit, is out, and in its place is "BlackBerry," the wireless handheld device.
The same goes for "magpie," "vine," "beaver," and "canary." These words have been dropped to make room for "mp3 player," "voicemail," "blog," and "chatroom."
In December, the Daily Telegraph ran a story about Lisa Saunders, a mother of four in Northern Ireland who compared the 2007 version of the Oxford Junior Dictionary with previous versions of the 10,000-word lexicon aimed at 7-year-olds. According to the British paper, Ms. Saunders noticed that certain words – particularly those associated with Christianity and the British monarchy  – were bring replaced by newfangled information-technology terms.
But in addition to words like "abbey," "sin," "vicar," "duchess," and "coronation," the dictionary had seen the disappearance of "acorn," "sycamore," "violet," "drake," and "cygnet."
---