Are we making too many Americans?
(Read article summary)
According to new federal data , some 4.3 million babies were born in 2007, surpassing the previous record set in 1957 at the peak of America's Baby Boom.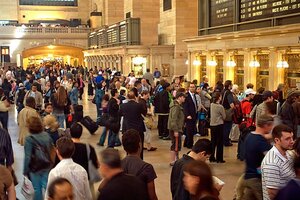 Richard B. Levine/NEWSCOM/FILE
They don't work, they don't pay taxes, and they don't speak English. And according to federal data released Wednesday, some 4.3 million of them entered the United States in 2007, more than in any other year in the nation's history.
We're talking of course about babies. According to a new report [PDF] from the Centers for Disease Control, 4,317,11960 of these drooling homunculi came into existence within US borders that year, surpassing the previous record set in 1957 at the peak of America's Baby Boom.
This fertility uptick isn't unique to the US. Last week, the United Nations' Population Division revised its "low variant" mid-century forecasts upward [PDF] by 117 million people because of an unanticipated increase in fertility in Europe, as well as in the US. As the Worldwatch Institute's Ben Block explains, the average age of childbearing rose as women became more educated, resulting in fewer births. But now that average age has stopped rising, so the birthrate is now back on track.
All these additional First World babies have some environmentalists worried. Writing in Mother Jones's environment blog, Julia Whitty points out that each one of those newborns arrives with a massive carbon price tag. (To reinforce her point that babies are climate-wrecking monsters, her post is accompanied by a photo of one making a face that would prompt Anne Geddes to consider a career change.)
---
Subscribe to Recharge
Get the Monitor stories you care about delivered to your inbox.