Arctic sea ice fights losing winter battle (again)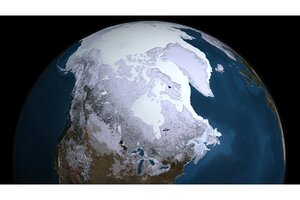 NASA Goddard's Scientific Visualization Studio
Earth's crisp white skullcap of Arctic sea ice is emerging from winter much the worse for wear.
Scientists monitoring the ice's annual growth and contraction say the frigid sheath ended winter with the fifth-smallest geographic reach since 1979, when satellites first began tracking sea-ice trends. All six below-average winters have occurred between 2004 and 2009.
This year, winter ice also enters a new melt season with record-low levels of thick older ice, the kind that has has survived several summers. This is the ice that persists the longest to help cool the planet during summer; it reflects sunlight back into space during the Arctic's long hours of daylight – think 186 "days" of sunlight at the North Pole.
And it's the ice that provides the foundation for further thickening when sea ice expands again the following winter.
From 1981 to 2000, multiyear ice made up an average of 30 percent of the Arctic's ice cover at winter's end. Coming out of this winter, only 9.8 percent of the ice was of the multiyear persuasion.
You can read more about it here.
The culprit, say researchers with the National Snow and Ice Data Center and NASA's Jet Propulsion Laboratory, is global warming. (No Virginia, it actually hasn't ended yet; you can get started on some explanations here and here).
In addition, some naturally shifting climate patterns superimposed atop the long-term warming trend have contributed to the  thinner, less extensive sea ice.
---