The pros and cons of wind power are making news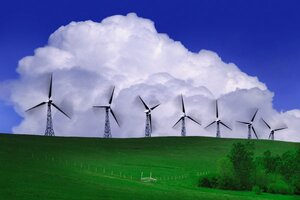 NEWSCOM
Wind power has been in the news this week:
– Offshore wind turbine projects proposed in several states got a boost Wednesday from new rules announced by the Interior Department. These make it likely that proposed wind farms in the Atlantic Ocean that have been delayed by opponents and a jurisdictional dispute between government agencies will move forward toward approval, with several probably getting under way within several years.
– As President Obama touted all kinds of renewable energy on Earth Day, he specifically mentioned that in 20 years, the US could be getting 20 percent of its energy from the wind.
– Today's interview in Scientific American with Leon Steinberg, CEO of National Wind (which builds wind projects in the Midwest), discusses some of the advantages of wind power as well as a few of the obstacles to achieving the Obama administration's goal.
But a few "discouraging words" about renewable or clean energy in general – and wind power specifically– were also heard:
---