Where's the environment section on Google News?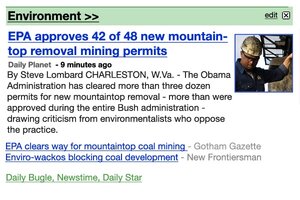 Jake Turcotte and Eoin O'Carroll
Visit Google News's home page and you'll see lots of important stories: elections in India, armed conflict in Pakistan, and the US debate over torture, to name just a few.
You'll also see lots of stories on matters less pressing: speculation on the outcome of a reality television show, detailed analysis of a person's ability to hit a ball with a stick, and the latest missive on the ongoing saga over whether someone deserved to have won a beauty contest last year.
Fair enough. But what if you wanted to learn about Mexico's proposal for a world climate change fund, the delisting of the North American gray wolf, or the blockade by activists of one of Peru's largest gold mines? Time to break out the spelunking gear, because you're not likely to find these stories anywhere near the surface.
Part of the reason for this is that Google News's Sci/Tech section often tends to be more tech than sci. Online publications like TechCrunch, TechSpot, Techmeme, DailyTech, and TechNewsWorld, to name a few, are constantly cranking out stories about the latest iPhone apps, Facebook privacy changes, OS updates, Gmail outages, Twitter fails, and so on, to the point where software and gadget stories tend to crowd out scientific discoveries.
---