Are bigger cars safer?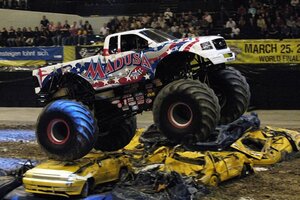 NEWSCOM/FILE
Mention federal fuel efficiency standards – particularly Obama's new standards – to hardline capitalist types, and watch as they suddenly morph into Ralph Nader.
"Proposed mileage standards would kill more Americans than Iraq War" writes Steve Milloy, a Fox News commentator and author of "Green Hell: How Environmentalists Plan to Ruin Your Life and What You Can Do to Stop Them."
"[The Obama adminstraton's proposed efficiency standards] will raise the prices of cars, and make them less safe," writes Megan McArdle, a libertarian blogger for the Atlantic.
[Corporate Average Fuel Efficiency] is among the deadliest government regulations we have," says Sam Kazman, the general counsel for the Competitive Enterprise Institute, a free-market think tank (which, incidentally, has taken in more than $2 million in funding from ExxonMobil).
Mandating fuel efficiency, the argument goes, will force automakers to design smaller, lighter vehicles, which are more dangerous to drive than bigger, heavier ones.
---