Pro and con views on the global warming debate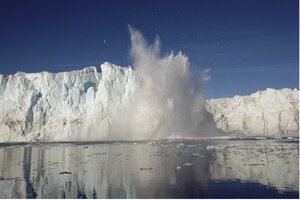 NEWSCOM
Always-interesting Yale Environment 360 was especially intriguing this week, featuring an opinion piece by Oberlin College professor David Orr. It's titled "Learning to Live With Climate Change Will Not be Enough." Balancing it is a Q&A interview with eminent physicist Freeman Dyson of Princeton University, whom they call "a reluctant global warming skeptic."
Dr. Orr argues that we have two choices on human-induced climate change: adaption and mitigation. He writes:
"The argument for adaptation to the effects of climate change rests on a chain of logic that goes something like this: Climate change is real, but will be slow and moderate enough to permit orderly adaptation to changes that we can foresee and comprehend. Those changes will, in a few decades, plateau around a new, manageable stable state, leaving the gains of the modern world mostly intact – albeit powered by wind, solar, and as-yet-undreamed advanced technologies."
And while he agrees that we should take adaptation actions, such as "developing heat- and drought-tolerant crops for agriculture, changing architectural standards to withstand greater heat and larger storms, and modifying infrastructure to accommodate larger storm events and rising sea levels," he doesn't think they will be enough.
---