Are climate-change deniers guilty of treason?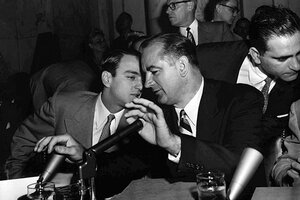 Byron Rollins/AP/FILE
It seems as though the so-called skeptics have really gotten under Paul Krugman's skin this time. Writing in his New York Times column Sunday, the Nobel Prize-winning liberal economist expressed outrage at the representatives who voted against the Waxman-Markey climate-change bill because they doubted the scientific basis of global warming. He writes:
And as I watched the deniers make their arguments, I couldn't help thinking that I was watching a form of treason — treason against the planet.
Mr. Krugman then gives a rundown of the latest climate research, whose predictions are far worse than previously thought. He describes climate change as a "clear and present danger" – borrowing a phrase first deployed in 1919 by Supreme Court Justice Oliver Wendell Holmes, Jr. to imprison a man for opposing the draft – and concludes:
---
Subscribe to Recharge
Get the Monitor stories you care about delivered to your inbox.