Will we empty the oceans?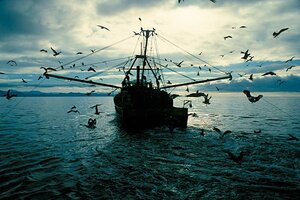 NEWSCOM/FILE
Last week, Greenpeace released its semiannual seafood sustainability scorecard, which ranks US supermarket chains based on the impacts their practices have on marine life and how well they communicate these practices to the shopper.
The grades are dispiriting. While the environmental advocacy group noted progress among some stores, the top scorer, Wegmans, received only 6 out of 10. Even though the East Coast chain has worked with scientists and conservationists to develop seafood sourcing standards and has removed from its stores a number of species because of sustainability concerns, Greenpeace found that Wegmans continues to sell 15 species – including grouper, monkfish, and Atlantic salmon – that appear on Greenpeace's Red List of fish that are unavailable from sustainable sources.
Other stores fared much worse on Greenpeace's report card. The national chain Trader Joe's – which generally has a good reputation among greens – scored near the bottom, prompting Greenpeace to attack them in a site called Traitor Joe.
You can check how your local supermarkets have performed on Greenpeace's ranking here.
---