Giant mysterious blob found floating off Alaska coast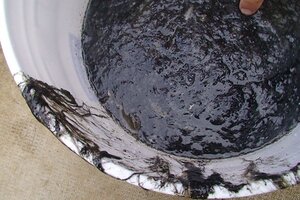 Courtesy North Slope Borough
Where is Steve McQueen when you need him?
In one of his first films, "The Blob," the King of Cool helps defend a small Pennsylvania town against an amorphous extraterrestrial mass of man-eating protoplasm. At the end of the movie, he realizes that the creature cannot stand cold, so he and a police officer attack it with fire extinguishers, freezing it. The film closes with a shot of a military plane dropping the the Blob into the Arctic.
And now the creature has apparently thawed. According to the Anchorage Daily News, hunters on Alaska's northern coast noticed a mass of thick, dark, viscous matter drifting in the ocean. Officials took a helicopter to investigate (see the video below) and followed a strand of the stuff that they estimated to be 12 to 15 miles long.
The following day, they collected samples. Preliminary results of the tests [PDF] conducted by the Alaska Department of Environmental Conservation found no hydrocarbon sheen. In other words, it's not oil.
Instead, they found that the sample "primarily contained marine algae." But it's a kind of algae unlike anything anyone can recall seeing before.
---