Pushing for conservation, shark attack victims turn the other cheek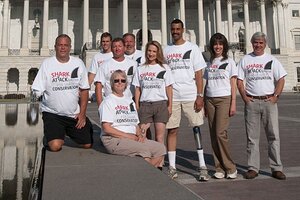 Bill Plowman/ AP Images/Pew Environment Group
In an extraordinary display of forgiveness, nine victims of shark attacks lobbied the Senate last week, on behalf of the creatures that injured them.
The sharkattack survivors urged the legislature to enact the Shark Conservation Act of 2009, which would strengthen the ban on "finning" and support shark conservation programs worldwide. The bill has already passed in the House of Representatives.
"It's time to replace fear with understanding and action, just as we have for lions and other apex predators," said Debbie Salamone,  communications manager at the Pew Environment Group, in a press release. In 2004, Ms. Salamone was in waist-deep water off the the Cape Canaveral National Seashore in Florida when a shark tore into her heel.
After the attack, Salamone left her newspaper job and now works full time for the Pew group. This spring, she began contacting other shark attack survivors. Most of those she called agreed to join the conservation effort.
---