Can bikes and cars share the road?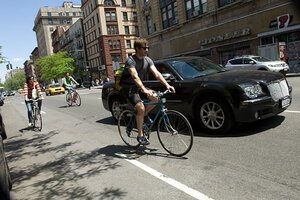 Frances M. Roberts/NEWSCOM/FILE
An increase in the number of people commuting by bicycle instead of car would be an unqualified boon for the environment and for public health, but there don't seem to be too many takers: According to 2005 US Census data, fewer than one half of one percent of Americans bike to work.
One of the biggest deterrents is the perception that cycling is unsafe. And no wonder: Pedaling down a public ways means placing yourself within a few feet of fast-moving one- or two-ton steel boxes, some of whose operators might be busy applying eyeliner, sending text messages, or both.
A survey by the fitness publisher Rodale Press (cited here in an article by the League of American bicyclists) found that some 40 percent of Americans would commute by bike "if safe facilities were available." It seems that a lot more of us would like to bike to work, but we're too afraid of the cars.
But how dangerous is cycling, exactly? In 2007, The New York Times's Freakonomics blog cited a study by researchers John Pucher and Lewis Dijkstra that found that, per kilometer, those on bikes are 12 times more likely than those in cars to suffer a fatal accident.
---