Wildfires – the causes and solutions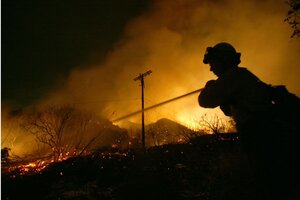 NEWSCOM
Whenever we read about or see photos of the latest big wildfire, most of us wonder if something couldn't have been done to prevent it. And if we live in the other 49 states, another question often arises: Why do wildfires occur so often in California?
What causes wildfires? Most often, people. Lightning is the No. 2 cause.  But certain conditions have to be in place for those to have an effect. Here's how Time magazine explained it very simply some years back:
Wildfires result from a confluence of fuel, dryness and some kind of trigger. Each factor contributes to the severity of the blaze.
-- Fuel means flammable solids -- grass, pine needles, undergrowth, smaller trees -- that, with oxygen, feed the fire.
-- Dryness can be caused by short-term weather patterns with low humidity or by a lengthy drought that parches the landscape.
-- Triggers can be as natural as a lightning strike, as innocent as a campfire or as sinister as an arsonist.
But Smokeybear.com expands on this in explaining that many factors are involved in why so many acres have burned over the past few years. These include:
-- Past fire suppression policies which allowed for the accumulation of fuel in the form of fallen leaves, branches, and excessive plant overgrowth in forest and wildland areas.
-- Increasingly dry, hot weather.
-- Changing weather patterns across the US.
-- Increased residential development in the wildland/urban interface.
---