Fall foliage - Maine's fall colors look spectacular
(Read article summary)
Maine's fall colors are starting to dazzle. Where to drive to see the best fall foliage? Northern Maine is providing the best color.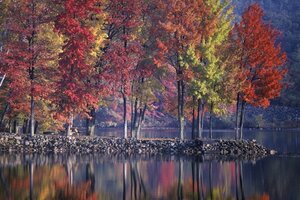 NEWSCOM/FILE
OK, leafpeepers, this is it. This is the season we've all been waiting for. Maine's fall foliage is back.
You ready to see some color this weekend? Although there are reports of flash throughout the state, your best shot is the hinterlands. Be adventurous. Go north. Northern Maine is where most of the action is happening.
Now, this isn't us talking. We've talked to many Mainers. They say it's all about Zone 6 and Zone 7. Unfamiliar with the zones? Just check out this map.
Although many a New Englander was upset at Mother Nature this summer for all the wet weather, it's gonna pay off, they say.
"The rain really just set us up for a spectacular season," said Gail Ross, a spokesperson for the Maine Department of Conservation. "It's left the forest in really good health, so the extra moisture is a huge help."
This is something we've heard from meteorologists all year in the Boston area. They say that when trees are under stress from drought, leaves aren't as colorful. That's good news for us!
Fiery Oranges and Reds
And the proof is evident in Northern Maine.
"It is beautiful," Ross said emphatically. "The fiery oranges and reds are really starting to pop. If you want to see color, this is where you want to go. This is definitely my foliage destination for the weekend."
All Leslie Jackson has to do is look outside her window to confirm it. Jackson is a tourism development specialist for Aroostook County. She lives in Zone 7 -- in the town of Caribou.
---