Is global warming melting the ice on Mt. Kilimanjaro?
(Read article summary)
Melting ice on Mt. Kilimanjaro is mirrored on other tropical summits around the world affected by global warming.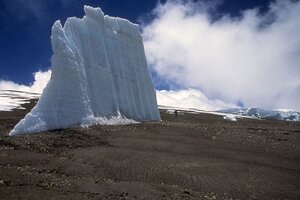 Photo courtesy of Lonnie Thompson, Ohio State University
Global warming appears to be melting the ice on Tanzania's Mt. Kilimanjaro. The summit's glaciers are likely to be gone within a few decades
That's the word from a study appearing this week in the Proceedings of the National Academy of Sciences.
But global warming may not be the whole story behind Mt. Kilimanjaro and its environs. And therein lies a tale of how human activities may affect local and regional climate in ways that can mask or reinforce a long-term warming trend.
Understanding those effects is critical to devising strategies for adapting to global warming at regional or local levels.
The new results showing how quickly ice is melting on Mt. Kilimanjaro's iconic summit comes from the lab of Lonnie Thompson, an Ohio State University glaciologist who has spent his career studying the climate records trapped in mountain glaciers in the tropics. (For a good read on his work, snag a copy of the book "Thin Ice" by Mark Bowen.)
Among the findings:
-- The summit lost 80 percent of its ice between 1912 and 2007. Some 26 percent of the ice present in 2000, Dr. Thompson's last trip to the summit, vanished by the end of the period. The Furtwangler Ice Field in particular has lost 50 percent of its thickness since 2000. At that pace, it will vanish into a damp patch of summit soil by 2018. Glaciers on Mt. Kilimajaro's flanks have lost some 40 percent of their area between 2000 and 2007.
---