Three good green reads – from rot-proof apples to a revelation about everyone's favorite reindeer
(Read article summary)
A little green reading on the light side, from apples that won't rot for 4 months to why Rudolph the reindeer is probably a girl.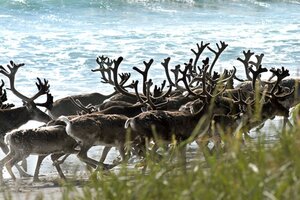 NEWSCOM
Want a little light relief from all the heavy environmental news coming out of Copenhagen? We have a trio of suggestions:
–  Scientists explain why Rudolph, star of song and TV, probably isn't a male reindeer at all.
–  Next year, if an apple in a Christmas stocking gets overlooked until Easter, it'll still taste fine.
–  If polar bears succumb to global warming, you can still see them at one zoo, which puts fake bears on display.
Read on.
A December news flash - Rudolph is a girl
Scottish scientistsreveal that the red-nosed reindeer should probably be called Rudolphine.
Their reasoning? Only female reindeer have antlers at this time of year. The males of the species shed theirs after the fall mating season (when they've used them to fight one another).
Maybe we should have known all along that Rudolph the red-nosed reindeer is a girl, says Jace Shoemaker-Galloway at eco-worldly: "Since Santa never seems to get lost, perhaps it only makes sense a female is leading the way in that oh-so-famous sleigh!"
---