Looking for energy-efficient alternatives to fireplaces
(Read article summary)
Fireplaces have great appeal in a house, but aren't energy-efficient. What are the alternatives?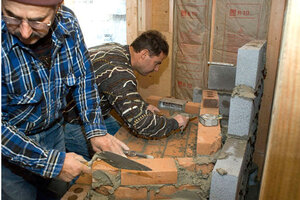 Joanne Ciccarello/Staff/The Christian Science Monitor
When we discovered Sheep Dog Hollow last summer, the charming old home – which was yearning for some loving care – had two, rickety old chimneys. When we decided to buy and restore it in as green and economical a fashion as possible, I knew that we had to have a fireplace in it, or even two.
One of my favorite memories from my childhood was listening to my Virginia-bred mother telling stories about growing up on Lone Jack Farm, while she stood with her back to the fire, warming herself from the harsh cold in New England, where she'd come to raise a family. A fireplace was a must, if only for the warm memories it evokes.
But I also knew that fireplaces are not the most energy-efficient manner of heating a home. In fact, they're quite the opposite. Conventionally designed fireplaces consume warm air from a room, the fire heats it up even more and sends it racing up the chimney. Then that air has to replaced with more air.
And where does it come from? Outside. And, as the 1940's Frank Loesser classic Christmas song says, "Baby, it's cold outside."

A better explanation comes from the Masonry Advisory Council:


"In a cold environment, the air drawn into the firebox comes from the house and has already been heated to a comfortable temperature by the central heating system. As the air is expelled up the flue, it has to be replaced by more air. Where does this air come from? It must infiltrate the house from the outside, be heated up by the central heating, and then fuel the fire."
Not exactly a "green" way to heat a home.
---
Subscribe to Recharge
Get the Monitor stories you care about delivered to your inbox.