Global warming skepticism is fueled by public relations, author says
(Read article summary)
In the book 'Climate Cover-Up: The Crusade to Deny Global Warming,' James Hoggan says the campaign to create skepticism about climate change is 'by far and away the biggest public relations campaign that I've ever seen.'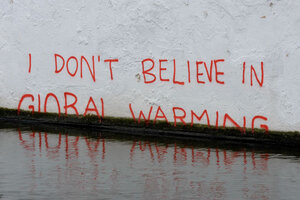 NEWSCOM
There's a new book on the public relations aspect of human-induced climate change that's well worth the read. It's called "Climate Cover-Up: The Crusade to Deny Global Warming."
Author James Hoggan, cofounder of the DeSmogBlog.com, has been in the public relations business since 1972. His experience gives him a unique perspective on what he labeled, in a phone conversation, "by far and away the biggest public relations campaign that I've ever seen."
In 17 chapters, he details the campaign's methods and techniques, from astroturfing and media manipulation to "swift boat"-like campaigns to discredit scientists. And he tells the story with a PR professional's understanding of how to steer — or hijack, as the case may be — a conversation.
Mr. Hoggan also shores up his assertions with facts. He traces the money trails connecting various individuals and organizations with fossil fuel interests. And he provides resources for laypeople to continue their own fact-checking.
Want to know which "think tanks" Exxon, the world's largest corporation, is funding, and how certain frequently-quoted climate skeptics are affiliated with them? Take a look at exxonsecrets.org, a database of these relationships maintained by Greenpeace.
Care to know which politicians oil and gas interests are contributing to? Browse opensecrets.org, a record kept by the Center for Responsive Politics.
---