The comparative costs of climate change
(Read article summary)
How much will mitigating global warming or climate chage cost the world? Here are some comparisons.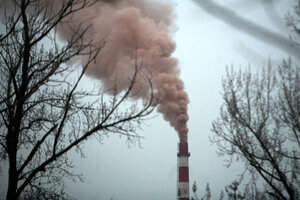 NEWSCOM
How much will decarbonizing the economy cost, and compared to what?
Probably the most widely discussed economic analysis on what the transition to a low-carbon economy will cost is the so-called Stern Review by British economist Nicholas Stern.
First released in 2006, the report put these costs at 1 percent of Gross Domestic Product. Then, in 2008, as it became clear that Earth's climate was changing faster than many had forecast, Stern upped the estimate to 2 percent of world GDP.
While he acknowledges that this cost presents a challenge, he asserts that without this investment the world economy faces a possible climate change-induced recession that would cost 20 percent of world GDP.
As might be predicted, the report was criticized from both sides of the climate-change discussion. Those who favor doing nothing say that Stern sorely underestimates the costs of stopping all fossil fuel use. Those who favor action say that Stern underestimates the potentially catastrophic costs of climate change.
The 2008 Garnaut Report, billed as an Australian version of the Stern Review, supported Stern's basic findings. "[T]he costs of action are less than the costs of inaction," it stated.
And it, too, came under criticism from both sides.
But for our purposes here, let's assume that weaning ourselves off fossil fuels will cost 2 percent of world GDP. How much is that, and what does it mean?
The GDP of the entire world — the Gross World Product — was $61.22 trillion in 2008, according to the CIA World Fact Book.
The largest single GDP, that of the European Union, equalled $18.14 trillion. That's $33,700 per capita.
---