Lawns may contribute to global warming
(Read article summary)
A study at the University of California Irvine says that greenhouse gas emissions 'would be lower if lawns did not exist.'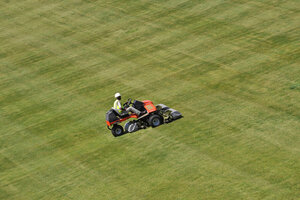 NEWSCOM
It's the sort of headline that would grab the attention of any city dweller: Urban 'Green' Spaces May Contribute to Global Warming. As it turns out, "green spaces" doesn't mean pocket parks or wooded areas. It refers to grass. Grass in parks and grass covering athletic fields.
And, although the study – from the University of California Irvine – looked at grass in parks, the conclusions may give pause to lawn-proud homeowners, too:
Why?
It's not so much the grass -- which does remove CO2 from the air and store carbon in the soil -- but the care that the lawn needs: applying fertilizer, mowing, irrigation, leaf blowing, etc., all of which produce emissions (four times greater than the amount of carbon stored). Editor's note: Please note at the end of this post that this data is being disputed.
The two athletic fields looked at by the researchers produced even worse results than grass (which hort. and ag, scientists always refer to as "turfgrass") in picnic areas.
Soccer and baseball fields get such hard use that they're often aerated and replanted: Due "to soil disruption by tilling and resodding – they didn't trap nearly as much carbon as ornamental grass [the grass in picnic areas] but required the same emissions-producing care," the university says.
Previous research demonstrated the carbon-storing ability of lawns, but didn't compare that to the emissions that result from grooming and other care.
All this matters because grass currently covers almost 2 percent of the land in the continental United States.
Editor's Note: On Feb. 15, we received this notice from the Outdoor Power Equipment Institute, which is excerpted:
---