Centralia, Pa.: How an underground coal fire erased a town
(Read article summary)
The Centralia, Pa., coal fire is expected to drive out the town's few remaining residents.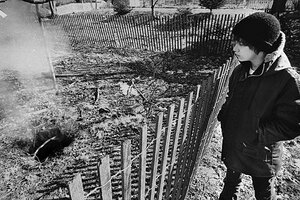 AP/File
If officials in Pennsylvania's capital, Harrisburg, have their way, the borough of Centralia, Pa., will soon cease to exist.
There's not much left of the northeastern Pennsylvania coal town these days. Even in the early 1980s, some two decades after the underground fires began, more than a thousand people called Centralia home. But as the poisonous gases continued to seep from fissures in the ground, and as the sudden sinkholes threatened to cast people into the smoldering depths, the town emptied out.
Today, fewer than a dozen people remain.
Now the state wants those last holdouts gone. As the Associated Press's Michael Rubinkam reports, state officials have ordered Centralia's remaining residents to leave so that their homes can be demolished.
Nobody really knows exactly what started the fire, which began at a town dump in 1962. The burning trash ignited an exposed coal seam, and the fires seeped into the labyrinth of tunnels and shafts below. Over the next two decades, firefighters tried eight times to douse the subterranean blaze, but the fire always seemed to be several steps ahead of them. Eventually, they gave up. Extinguishing the fire would be too expensive, and anyway it didn't seem to pose too much danger.
In the early years of the fire, Centralians enjoyed not having to shovel their sidewalks and being able to harvest tomatoes from the warm ground in midwinter, Smithsonian magazine notes. But then, as the ground below turned to ash, the pavement started to buckle. The trees started dying. People started passing out in their homes from the toxic fumes.
---