What's really causing Himalayan glaciers to melt?
(Read article summary)
A new study suggests that black carbon could be the cause of Himalayan glaciers melting.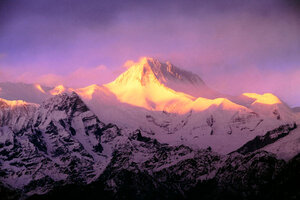 NEWSCOM
Two weeks ago, it emerged that the UN's Intergovernmental Panel on Climate Change had made a mistake. The IPCC's last report, completed in 2007, had forecast that, given the current rate of global warming, Himalayan glaciers would "very likely" disappear by 2035.
This date, it turns out, wasn't based on a study appearing in a peer-reviewed science journal, but on an article published in the popular science magazine New Scientist a decade ago. The article apparently misquoted Indian glaciologist Syed Iqbal Hasnain.
Hasnain has said that he noted the error when it first appeared in print all those years ago, but never contacted the magazine about correcting it. How an article in the popular press made it into the pool of studies considered by the IPCC — the panel says it focuses on peer-reviewed studies — remains something of a mystery.
But, it should be noted, the erroneous estimate did not make it into the guide for policymakers. It appears only in the full report. So what about those glaciers?
Although there's still disagreement on how much Himalayan glaciers, sometimes called "the third polar region," are melting (see Monitor colleague Ben Arnoldy's story on the difficulties of studying ice in the volatile region) glaciologists tend to agree that they are melting, and that this poses a significant problem in the long run.
---