What I didn't know about solar power – but should have
(Read article summary)
In renovating an old farrmhouse, the owner discovers that solar panels can be leased instead of purchased.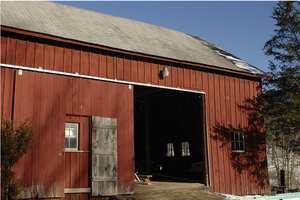 Joanne Ciccarello/Staff/The Christian Science Monitor
We've already broken the bank, so to speak, in our effort to renovate Sheep Dog Hollow in a green and economical manner. We did that when we decided to install a geothermal heating system that cost about $20,000 more than a top-of-the-line oil or gas heating system. The trade-off: big upfront costs versus long-term savings and a clean conscience.
But now, as I mentioned in my most-recent post, it turns out we could have installed a solar system for zero money upfront – just the cost of our monthly electric bill. Hmmm. Think that was a bit of poor planning on my part?
Connecticut is one of the few states that offer a solar leasing program that allows consumers to install solar panels and pay for them as they would their regular electric bill. (Others include California, Arizona, and Massachusetts, according to the site Tech.Blorge.com.
There are also about 200 local municipalities that offer similar solar leases, according to Monique Hanis of the Solar Energy Industries Association, a nonprofit trade group in Washington. (You can find out which ones at www.SEIA.org or www.dsireusa.org.)
---