How to avoid problems with home insulation
(Read article summary)
Home insulation is a good thing, but too much of it, or improper installation, can cause problems. Here's how to avoid them.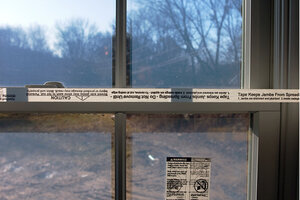 Joanne Ciccarello/Staff/The Christian Science Monitor
There can be too much of a good thing, insulation included.
In my last few blog posts [click here for the most recent one], I've sung insulation's praises as the easiest, least expensive way to green up a house – and save money on heating and cooling.
I've also touted Cash for Caulkers, which is designed to get more people living in better insulated homes.
But several readers mentioned that going overboard with insulation and sealing a house can cause serious problems – from moisture buildup and mold to polluted indoor air.
It's vital when upgrading your insulation to get just the right amount and to ensure that it's properly installed. You also have to make sure you have plenty of air circulation, and, in some cases, that means you may need to install a mechanical air exchanger to ensure that the house can still breath.
At Sheep Dog Hollow, our experiment with green renovation, we plan on using an open-cell spray foam insulation called Icynene. It provides thermal protection and acts as a sealant to keep air – damp and otherwise – from seeping into the house.
Air leakage, it turns out, is not only a great way to lose heat in the winter and coolnessl in the summer, but "air leakage accounts for as much as 99% of moisture movement in a structure," according to the Icynene website.
Moisture can cause mold as well as damage to the building materials, and improperly installed insulation can be the culprit.
---