Sheep Dog Hollow's green renovation is almost finished
(Read article summary)
The green renovation of Sheep Dog Hollow, a 100-year-old farmhouse, is almost finished. But wind power is still under consideration.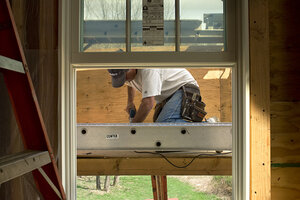 Joanne Ciccarello/Staff/The Christian Science Monior
This is going to be one of my last blog posts in the Monitor about Sheep Dog Hollow, our green renovation adventure. The greening aspects of the project are almost all complete, from the geothermal heat system to the low-E windows to the on-demand water heaters.
So we're looking to future green options – and the one that's currently caught my attention is wind. In my previous two posts, I discussed how to determine whether wind would be a viable option for you and then gave a thumbnail sketch of the initial challenges – which include getting town approval to put up a big tower on your property to measure the air speed overhead.
"To really know for sure where you're at, you need to put up your own anemometer and do a little bit of a wind study of your own," says Bruce Lichenwalter of Northeast Alternative Energy.
An anemometer is a little mechanism that measures and can record wind speeds. Many states – most of which are out West, although others include Vermont and Virginia – have anemometer loan programs that homeowners can take advantage of.
---