South Africa OKs fracking for natural gas
(Read article summary)
South Africa has lifted a ban on the hydraulic fracturing, a controversial method for tapping natural gas reserves commonly known as "fracking," according to OilPrice.com. South Africa ranks among the top ten global owners of shale gas resources and some say fracking will help the country exploit these resources.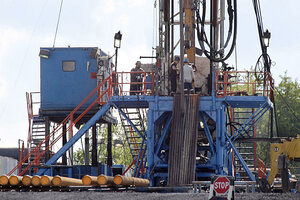 Keith Srakocic/AP/File
In many countries, the contentious issue of using hydraulic fracturing, or "fracking," to develop otherwise unexploitable natural gas reserves has led to policy debates of prosperity versus potential environmental damage.
For countries faced with massive hydrocarbon import bills the issue is particularly acute, and many countries are keeping their fingers crossed about the practice. For South Africa, a net importer of energy with about 90 percent of its power supply being coal-based, any and all alternatives are under consideration.
---