What does Syria's lack of oil mean for US involvement?
(Read article summary)
Because of its small oil resources, Syria is in a non-strategic second-tier position, as far as the interests of the United States and its allies in the region are concerned, according to OilPrice.com.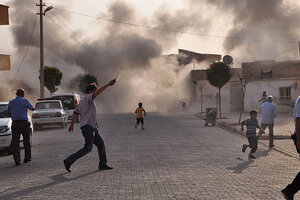 Anatolia/AP/File
There is a popular belief in the Middle East that Washington's foreign policy, particularly as it relates to this precarious region, is largely driven by America's dependency on, and insatiable appetite for Arab oil. One can make a good argument for that.

Had Syria been a major oil producing country chances are the US would have already dispatched military forces to impose a pax Americana and to put a stop to the horrific fighting that has been slowly, but without any doubt, ripping Syria apart and dismantling the infrastructures that make the Syrian state what it is today. Even if the war was to end today it would take years for Syria to return to its pre-war position from an economic and military perspective.

Some analysts believe that oil is what drove the United States to become militarily involved in Kuwait in 1990-91, in Iraq in 2003 and more recently in Libya.

Asides from some stealth behind the scenes support to a few of the many rebel groups engaged in the conflict that has been forthcoming in the form of weapons (mostly light weapons) and some intelligence delivered to a handful of the multitude of forces demanding the departure of Syrian President Bashar Assad, the US-NATO-Saudi-Qatari alliance has refrained from moving to the next step; full scale military intervention. Last week the Qataris made some attempts at the UN General Assembly in New York to drum up support for an Arab military intervention in Syria but that did not seem to take any traction with other Arab countries. (RELATED: Iraq to Invest $500 Billion in Energy Sector)
---