Gas prices: Can the economy weather another rise to $4 gas?
(Read article summary)
High oil prices and rising gas prices weaken an economy because they reduce discretionary spending and indirectly cause people to be laid-off from work, Tverberg writes. Can the US economy stand another jump in prices?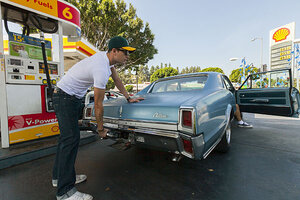 Damian Dovarganes/AP/File
Prof. James Hamilton of University of California recently wrote a post called Thresholds in the economic effects of oil prices. In it, he concludes
As U.S. retail gasoline prices once again near $4.00 a gallon, does this pose a threat to the economy and President Obama's prospects for re-election? My answer is no.
EDIT - I originally wrote this post thinking that Prof. Hamilton was looking at a broader question: Can an economy learn to live with increasingly high oil prices? After looking again at his article again, I realize that he is talking about a narrow question: Using the figures he was looking at (average gasoline prices across all grades), prices were then near $4 a gallon, as they had been several times in the past, as they bounced up and down.
In that context, what he says is far closer to right than what my analysis of the broader question of whether an economy can learn to live with increasingly high oil prices, below, would suggest. There is a difference, because gasoline prices are not too closely tied to oil prices in short term fluctuations, and because the issue is likely to be as much one of consumer sentiment as anything else, as long as the issue is simply one of gasoline prices in a not-too-wide range. But I think there are some longer-term, more general issues we should be concerned about.
My Analysis of the More General Question: Can an Economy Learn to Live with Increasingly High Oil Prices?
---