Oil and climate change in the age of energy scarcity
(Read article summary)
As energy scarcity returns to civilization, we are being forced—often painfully—to become conscious once again of the energy flows in our daily life, Cobb writes.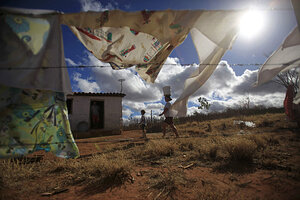 Ricardo Moraes/Reuters/File
A professor friend of mine recently asked his freshman writing class what makes civilization possible. The students puzzled for a minute and then someone said, "Cities." Of course, that's really just the definition of civilization. "But what makes those cities possible?" the professor asked. No one could really come up with an answer.
Here were students drawn in many cases from rural areas, some of whom lived on farms; and yet, the most basic energy flow in modern civilization—in any civilization—from farm to city in the form of surplus food was completely opaque to them. My friend remarked to me that a century and half of cheap energy in the form of fossil fuels has attenuated our awareness of energy flows so much that we as a society have become essentially unconscious of energy.
That is a state of mind that could only be the product of energy abundance, of an exceptional period in human history when the surplus energy available to society was so great that the average person simply did not have to think about it. And, so as energy scarcity returns to civilization as the norm, we are being forced—often painfully—to become conscious once again of the energy flows in our daily life. As a whole, human societies are only just beginning to wake up to this new era—except, of course, where life has remained close to the land, and failure to understand and create the necessary energy flows (particularly food) has always been tantamount to a death sentence.
The era of abundance which is now coming to an end created a dependence on a technical-corporate-financial energy elite which took over the provisioning of energy for society as that enterprise became ever more complex—advancing light-years beyond the pick ax of the 19th century coal miner. So long as energy remained abundant, the legitimacy and autonomy of this energy elite went largely unchallenged. Even in countries where the government controls energy resource exploitation, a small elite remains in charge of the process, a process thought to be largely technical in nature.
---