Oil and gas junior companies: What's their end game?
(Read article summary)
Aroway Energy CEO Chris Cooper discusses junior oil and gas companies, the Keystone XL pipeline and the future of Canadian oil and gas, in an interview with OilPrice.com.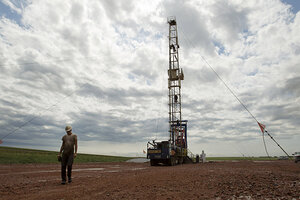 Gregory Bull/AP/File
The oil and gas game can be a tricky one for junior companies, but if played right the pay-off can be massive. At a time when juniors are risking a lot in volatile venues in the Middle East and Africa, Canada's Aroway Energy (ARW) is planting its feet firmly in homeland soil and in conventional plays.
Why? Because for the smaller juniors this is not a long-term game and blowing all your capital to drill a single unconventional well in a risky frontier won't pay off. Canada still has plenty to offer for juniors, even though you have to kiss plenty of frogs to find the prince. The end game, after all, is merger and acquisition.
In an exclusive interview with Oilprice.com, Aroway CEO Chris Cooper discusses:
• How to make or break a junior oil and gas company
• Why rail is becoming more attractive than pipeline transit
• Why most juniors won't make it big in risky frontiers
• Why Keystone XL will get the green light
• Why oil and gas prices will increase
• Why the smaller juniors will stick to the conventional plays
• How the asset market is heating up … and what is ideal
• Why having control of infrastructure is key to success
• Where Canada's oil and gas industry will be in a decade
• What every junior's goal should be
Interview by James Stafford of Oilprice.com
---