Ernest Moniz confirmed unanimously as Energy secretary
(Read article summary)
Ernest Moniz earned bipartisan approval Thursday as the Senate voted 97-0 to confirm the nuclear physicist as the next secretary of the Department of Energy. The support for Ernest Moniz is in contrast to divided opinions over Gina McCarthy, President Obama's pick to head the EPA.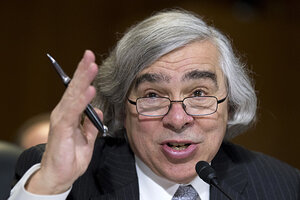 Manuel Balce Ceneta/AP/File
The US Senate unanimously confirmed Ernest Moniz as Energy secretary Thursday.
The bipartisan approval of the nuclear physicist comes in contrast to divided opinions over the fate of another key member of President Obama's second-term energy and environment team. Citing transparency concerns, Republican lawmakers have sought to stall the nomination of Gina McCarthy, Mr. Obama's pick to head the Environmental Protection Agency (EPA).
With a background in both government and science, Mr. Moniz is seen as a departure from his predecessor, Steven Chu. Moniz served as under secretary of the Department of Energy between 1997 and 2001. Prior to his nomination, he was the director of the Energy Initiative at the Massachusetts Institute of Technology in Cambridge, Mass. Moniz also served on President Obama's Council of Advisors on Science and Technology.
In his confirmation hearing last month, Moniz stressed the importance of a diverse, balanced energy portfolio. He is expected to be the flag-bearer of President Obama's "all-of-the-above" energy policy, a strategy he openly embraces. Research and development should be "first and foremost," he said, in the Department's work towards a clean-energy future.
In the past, environmentalists have objected to Moniz's views on hydraulic fracturing and natural gas. He says natural gas will serve as a "bridge fuel" to a carbon-free economy. For some environmental groups, it means an unnecessary and continued reliance on fossil fuels.
---