G8 leaders tackle inequities of global oil, coal extraction
(Read article summary)
G8 leaders aim to level the global resource playing field this week, discussing a consequential, if obscure, energy issue at the G8 summit. Are developing nations getting a fair share of their oil, coal, and mineral wealth?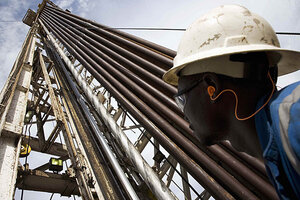 Tullow Oil Uganda/Reuters/Handout
G8 leaders took on corruption and exploitation in global resource markets at this week's G8 summit.
Many of the world's most valuable resources happen to fall in the poorest places on the planet. Large, multinational companies mine precious oil, gas, and coal from developing African, Asian, and Middle Eastern nations.
That can generate much-needed job growth and infrastructure development, but the exchange isn't always balanced. Host countries are often stripped of commodities for profits to be made halfway around the world. In other cases, corrupt leaders exchange their national resources for their own personal profit.
"Mineral wealth for developing countries should be a blessing, not a curse," British Prime Minister David Cameron said in a statement last month. "And I urge our G8 partners to champion the same high standards of transparency."
As host of this year's G8 summit, Mr. Cameron has made extractives transparency part of the agenda. It may not be the broad-reaching discussion of global energy issues and climate change that loomed large over previous summits. But the focus on equitable resource extraction shines a light on a consequential, if relatively obscure, issue.
In the lead up to the summit, the United Kingdom announced it will join the Extractive Industries Transparency Initiative (EITI), an international standard that promotes revenue transparency and accountability in global oil and gas extraction.
---