House eyes major budget cuts to energy innovation
(Read article summary)
No matter how you look at it, cutting energy innovation doesn't make sense, Stepp writes. If the House Energy and Water appropriators are interested in ensuring national security and economic growth, then their proposed energy budget would look the opposite it does today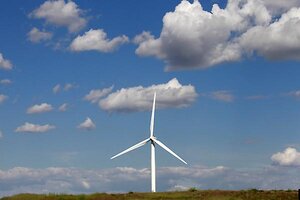 Rick Bowmer/AP/File
The House Energy and Water Appropriations subcommittee voted this week on an energy appropriations bill that decimates federal investment in clean energy innovation in the name of prioritizing funding for national security and economic growth. This bill presents the harshest proposed cuts to energy innovation programs in the last two years, cutting total funding for key Department of Energy offices by nearly 20 percent from already-sequestered FY2013 levels.
To make matters worse, the most significantly impacted programs under the proposal are arguably the most important efforts for ensuring the future growth of clean energy in the United States. The legislation cuts the Office of Energy Efficiency and Renewable Energy (EERE) budget by 43 percent from FY2013 levels under sequestration, or nearly 65 percent from the President's requested levels for FY2014. EERE's responsibility as the "connective tissue" of the U.S. energy innovation ecosystem, as well as its efforts to enable and develop an advanced manufacturing sector in the United States would likely be derailed by such significant funding cuts.
The proposal also calls for combining the programs within the Office of Electricity Delivery and Energy Reliability (OE) with those at EERE. Lack of specific details within the legislation prevent a full understanding of which projects within the two offices might be cut or eliminated, however it is clear that the proposal, which funds both EERE and OE at $982 million, would be a 67 percent cut from the President's FY2014 request for the combined budgets ($2.9 billion).
---