Obama climate plan: the one thing you need to know
(Read article summary)
President Obama's plan to address climate change will at most have a slight impact, Cobb writes, but it is nonetheless a brave and even historic move towards slowing the effects of climate change.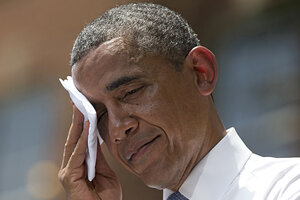 Evan Vucci/AP/File
The one thing you need to know about President Obama's plan to address climate change is that the most it will accomplish is slowing very slightly the pace at which the world is currently hurtling toward catastrophic climate change. Having said this, his plan is nonetheless a brave and even historic move in a country whose political campaigns and public discourse have been utterly poisoned by the science-free propaganda of the fossil fuel industry.
I would be more enthusiastic about the president's baby steps if the devastating droughts and floods and swiftly melting ice in the polar regions and mountain glaciers weren't telling us that drastic action is necessary right now. Nature doesn't really care about the timetables of politicians or about what is politically feasible. Nature doesn't negotiate, and it doesn't compromise. The laws of physics and chemistry cannot be repealed or altered by the Obama administration, the United States Congress or any other body. And, these physical laws are deaf to complaints about the negative economic consequences of addressing climate change--consequences that will be far worse if we do nothing about climate change.
But let me return to the goal announced by the president and put his plan into perspective. Using existing executive powers--mostly through the U.S. Environmental Protection Agency which the Supreme Court affirmed in 2007 has the power to regulate greenhouse gases--the Obama Administration will endeavor to reduce the RATE of greenhouse gas emissions in the United States to 17 percent below the RATE in 2005 and do this by 2020. It's a relatively easy target because half the reduction has already taken place. In recent years electric utilities have been changing from coal to cheaper and cleaner-burning natural gas to fuel their plants, and drivers, stung by unemployment and high gasoline prices, have reduced their driving.
---